Left side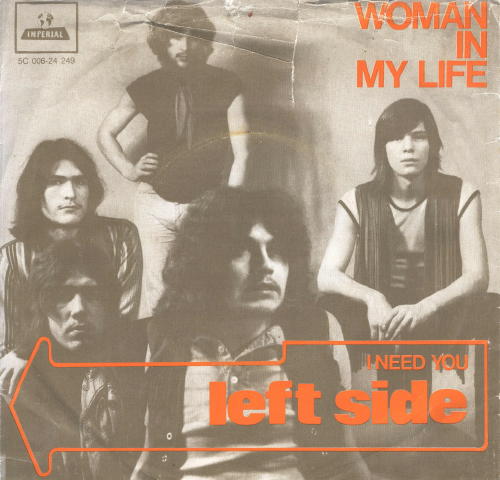 | | | |
| --- | --- | --- |
| 10-70 | Woman In My Life/I Need You | Imperial 5C006-24249 (Holland) |
| 00-71 | LP Their Greatest Hits | Imperial 5C052.24334X (Holland) |
| | |
| --- | --- |
| Side one: | |
| Where Have I Been Wrong | The Cats |
| Beautiful Friendship | Continental Uptight Band |
| Woman In My Life | Left Side |
| Doomsday Train | Brainbox |
| Without Your Love | Fresh Air |
| House Of The King | Focus |
| | |
| Side two: | |
| Smile (Old Friends Have A Right To) | Brainbox |
| Help! | Honest men |
| Black In The Sun | Unit Gloria |
| Tell Me You're Never Gonna Leave Me | Patricia |
| The Greatest Thing | The Cats |
| Red Red Lebanon | Hans Dulfer & Ritmo Natural |

Tony Macaulay/Mike d'Abo wrote "Woman In My Life" for this Dutch group which didn't go any further
than a bubbling under position for the Dutch Top 40.
The Left Side came from the city Volendam, which is a famous Dutch city because of the clothes people are
wearing there.
"Woman In My Life" has also been recorded by Bobby Vee, Engelbert Humperdinck and the USA group
Arkade. Look at their pages on this website.
Mike d'Abo put this song on his solo album "d'Abo".