Paula Koivuniemi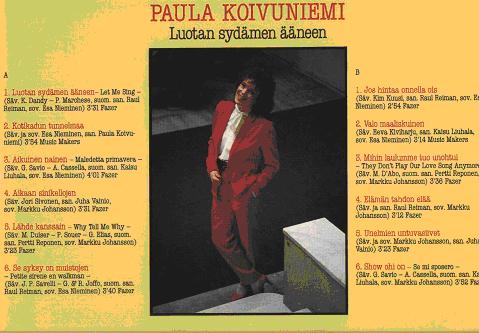 | | | |
| --- | --- | --- |
| 00-82 | LP Luotan sydämen ääneen | Polydor 2311 148 (Finland) |
| 00-82 | Cassette Luotan sydämen ääneen | Polydor 3100 635 (Finland) |
side one:

English title:

1.

Luotan sydämen ääneen
Let Me Sing
2. Kotikadun tunnelmaa
3.

Aikuinen nainen

Maledetta primavera (Italian)

4.

Aikaan sinikellojen
5.

Lähde kanssain

Why Tell Me Why

6.

Se syksy on muistojen

Petite sirene en walkman

side two :

1.

Jos hintaa onnella ois

2. Valo maaliskuinen

3.

Mihin laulumme tuo unohtui

They Don't Play Our Love Song Anymore

4. Elämän tahdon elää

5. Unelmien untuvasiivet

6. Show ohi on

Se mi sposero (Italian)

The internet is one of the best things invented. Dutch girl singer Anita Meyer (see there) had a number
one hit with the Mike d'Abo song "They Don't Play Our Love Song Anymore" in 1981 and when
surfing on the internet in May/June 2007 I suddenly found the song translated into the Finnish language
by Paula Koivuniemi. Of course I immediately tried to find someone who offered the album, but that
was not easy, until I sent a message to a Paula Koivuniemi site. That happened to be the secretary of
Paula, who has sent me a copy of the album and a signed copy of the 2006 CD "Yöperhonen". Both
the album and the CD are worth listening !!!
If you want to know more about Paula, go to: www.paulakoivuniemi.fi.
It only is a pity that all information on this beautiful website (where you also can listen to Paula's music)
is in Finnish. I'll contact her again and ask her for a story in English, which I will publish on this page.

The following story was send to me by Vesa Nykänen from Joensuu / Finland
Paula Koivuniemi

Paula Koivuniemi is one of the most succesful female singers, if not the most succesful, in Finland.
She made her first hit as a young woman in 1966 and has been front line Finnish female singer now
over forty decades. The first hit was called `Perhonen` (`Butterfly`). She made her second hit two years later.
It was called `Jos helmiä kyyneleet ois` (`If the pearls were tears` ). With the help of these successful tunes
she became a professional artist and she toured dancing places.

Even though Paula made a very successful cover of the Dutch Shocking Blue hit `Never Marry a railroad man `
(`Jos konduktöörin nait`) in 1972, the 70`s was not her best decade. She struggled a little bit with her music style;
sometimes she recorded bubblegum style of songs and sometimes more distinguished soul songs. Luckily she
continued her career because the great success was yet to become.

The 80`s was nothing but the success for Paula. She made numerous hits and it was clear that she became the
most wanted female artist in Finland. The most biggest successes were the songs `Tummat silmät, ruskea tukka`
(`Dark eyes, brown hair`) and `Aikuinen nainen` (`Adult woman`). 1982 album `Luotan sydämen ääneen` included
the song which is composed by Mike `Dabo. That song is called `Mihin laulumme tuo unohtui` in Finnish and
`They don`t play our love song anymore` in English (Anita Meyer made the number one hit of that song in Holland).

1990`s and 2000`s has been also very successful for Paula. Her albums have sold very well and she has got also
young fans because of her youngish style. Actually she looks younger and younger year after year! Maybe the most
important reasons of her success are her voice, stage charisma and many everlasting songs. You can hear her
old songs like `Perhonen` , `Jos helmiä kyyneleet ois` or `Maritza` (included 1971 in album `Paula Koivuniemi`),
which is known as French Sylvie Vartan hit `La Maritza`, on regular bases in Finnish radio broadcasts.