Hootenanny Singers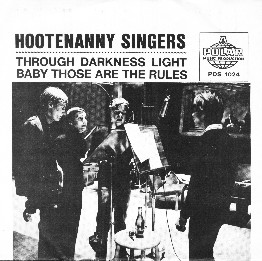 | | | |
| --- | --- | --- |
| 00-67 | Through Darkness Light/Baby Those Are The Rules | Polar POS 1024 (Norway) |
| 00-66 | LP Många Ansikten/Many Faces | Polar POLP 209 (Sweden) |
| | |
| --- | --- |
| side one: | side two |
| Blomman | Through Darkness Light |
| Marianne | Sunny Girl |
| Vid Roines Strand | In Thoughts Of You |
| Vid En Biväg Till En Byväg Bor | Just The Way You Are |
| Den Blonda Beatrice | The Long Black Veil |
| En Man Och En Kvinna | Baby Those Are The Rules |
| Tänk Dej | De' Att Du Och Jag Var Me' |

Before teaming up with Benny Andersson and later becoming part of Abba, Björn Ulvaeus was a stalwart of
the Swedish folk music circles. His love for music led him to the West bay Singers, who later became the
Hootenanny Singers. This popular act played folk standards interspersed with their own material. Some of the
tracks of this album are written by Björn Ulvaeus (who was a member of the Hootenanny Singers) and some
are written by Benny Andersson (who wasn't in the group), but none of the songs are written together.
"Through Darkness Light" is written by Michael d'Abo, who was in the studio when the song was recorded
and you can clearly hear, that Mike plays the piano. This song was also released as a single in Sweden as well
as in Norway on the Polar label. I did find the Norwegian single with a beautiful picture cover, which you can
see above. In England this group released records as the Northern Lights; see there for the UK-releases of
this group.
Another rare thing about this Mike d'Abo item is, that on the album his name is spelled as Michael D'abo
(instead of d'Abo) on the cover and totally misspelled on the label: Michael D'aboe.