Duncan Browne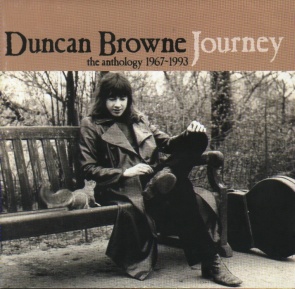 Duncan Browne had initially been half of Lorel, one of a number of male duos signed by
Immediate in 1967. A demo recording of "Here And Now", produced by Mike d'Abo, was
rejected by Andrew Oldham, a decision that led to the departure of Brown's partner, fellow
songwriter Davy Morgan (this isn't the same Davy Morgan who wrote for the Move).
"Here And Now", a typically ambitious, ornate summer of love mix of cellos and choirboy harmonies, has acquired semi-mythical Holy Grail status amongst Duncan Browne followers and late 60's baroque pop devotees alike. Fortunately it has now turned up as an Immediate demo and put as opening song on the Duncan Browne Caste Music 2CD "Journey – The Anthology 1967-1993".
| | | | |
| --- | --- | --- | --- |
| Tracks: | | | |
| Disc 1: | | Disc 2: | |
| 1. | Here And Now | 1. | Criminal World |
| 2. | On The Bombsite | 2. | The Wild Places |
| 3. | Alfred Bell | 3. | Roman Vecu |
| 4. | Give Me, Take You | 4. | Kisarazu |
| 5. | Ninepence Worth Of Walking | 5. | Planet Earth |
| 6. | Dwarf In A Tree (A Cautionary Tale) | 6. | Fauvette |
| 7. | The Ghost Walks | 7. | American Heartbeat |
| 8. | Chloe In The Garden | 8. | Streets Of Fire |
| 9. | The Cherry Blossom Fool | 9. | Theme From "The Travelling Man" |
| 10 | Resurrection Joe | 10 | Day For Night |
| 11 | The Final Asylum | 11 | End Of The Line |
| 12 | Journey | 12 | The Wild Places '91 |
| 13 | Ragged Rain Life | 13 | Scull Twins |
| 14 | Country Song | 14 | Rainer |
| 15 | Babe Rainbow | 15 | Berceuse |
| 16 | The Last Time Around | 16 | The Toys |
| 17 | Send Me The Bill For Your Friendship | 17 | No-name Girl |
| 18 | Black Lace Shoulder | 18 | Journey '93 |
| 19 | Paris | | |
| 20 | Precious | | |